Hawaiian algae possess exceptional concentrations of antioxidants and moisturizers to protect against the sun's harsh rays.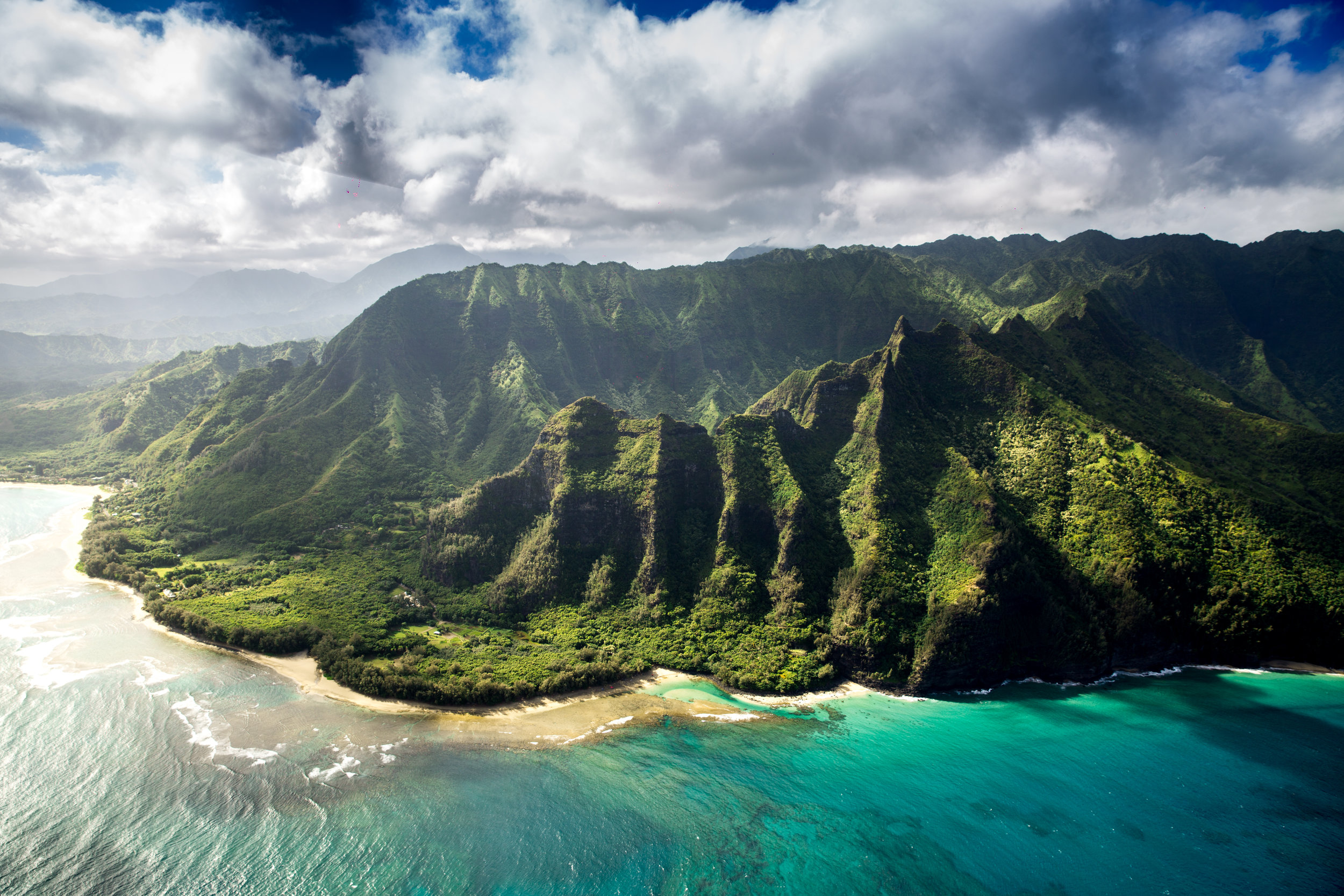 The professionals behind A'ala Hawai'i discover and create the skincare line's own science-based beauty ingredients.
We start with Hawai'i-sourced 
biopolysaccharides Biopolysaccharides – Relatively large biological molecules made up of many simple sugars; produced naturally by some plants and microbes.  Known to hydrate skin, suppress drying, benefit skin texture, reduce appearance of fine lines/wrinkles, and help protect the skin from pollutants or other irritants.
for long-lasting hydration and anti-pollution effects. These are fortified with "power pigments" known to protect against damage from light and oxidative stress, tone skin, support the extracellular matrix, and also help restore healthy skin.
Unprotected, human skin is susceptible to drying and formation of free radicals and other skin degenerating molecules. These are caused by UV light, inflammation, cell metabolism, aging, exposure to air pollutants and smoke, and use of certain sunscreens and make-up.
ActiveColors™. Our exclusive ingredients from Hawai'i deliver the same colored compounds provided by diets rich in colorful fruits and veggies.
✓ Natural carotenoids, betalains, flavonoids, anthocyanins, and polyphenols, widely recognized for their superior anti-aging, anti-wrinkle, antioxidant and anti-inflammatory properties.
✓ These compounds are known to block or absorb UV before damage occurs as ante-oxidants, neutralize free radicals after exposure as anti-oxidants, and work at the gene and biochemical levels to help preserve youthful skin with regular use.
We value your skin health and want to share our high-performance, science-driven, next era ingredient choices.
Ingredient Origin
Active ingredients discovered in tropical plants and algae that we research, grow, extract and hand-blend ourselves in Hawai'i. New ingredient production methods must minimize water and land footprints compared to incumbent ingredients. Raw materials that we cannot make are sourced from companies that share our vision of purity, quality and sustainability. Natural and nature-based, sustainable, non-GMO. No synthetic stabilizers or binders.
Product Philosophy
Efficient formulations to elevate science-based essentials and resource conservation for beautiful skin. Products smooth, renew and protect skin against damage from aging, sun exposure, and lifestyle factors. Small batch production ensures freshest ingredients. Products are safety tested and dermatologist reviewed. 100% nature-based formulations unlock exciting new possibilities in textures, colors, and scents for next era skin care.
Inspirations
A'ala Hawai'i is inspired by Nature, in name and design. Vibrant colors and exotic scents are integral to the tropical paradise of Hawai'i.
Our name, pronounced "Ah-ah-la", draws on the Hawaiian word 'a'ala, meaning sweet-scented; also of high rank, royal. The 'okina letter (') in the spelling designates a letter used in the Hawaiian language (it is a glottal stop). Our name inspires images of fragrant tropical breezes and luxurious pampering.
In design, a lei or ring of red tropical blossoms symbolizes the spirit behind Hawaiian aloha, to show friendship, love or to honor someone. Grounding the design is geometric patterns with repeated motifs inspired by the aesthetics of plant-based kapa (tapa) barkcloth from the Pacific Islands.
Our Values
Aloha
Be gracious, kind, loving and compassionate.
Malama
Take care of the mind, body and spirit and the natural world we live in.
Kuleana
Recognize and embrace the responsibility we have to past, present and future generations.
Pono
Promote goodness and do the right thing.
Founder Story
A'ala Bioactives founder Dr. Heidi Kuehnle explains that she and her team decided to launch A'ala Hawai'i after years working on green and sustainable raw materials for large cosmetics companies. "We loved our ingredients so much that we formulated them into products to use ourselves. We shared these with friends and family and received such an enthusiastic response that we decided to share these with the world, so we started A'ala Hawai'i."
Design Team
An "East meets West" team of passionate scientists with deep knowledge of botany and chemistry that calls Hawai'i home. Committed to innovations for skin health in harmony with nature and each other. On a journey navigating a new world of powerful skincare ingredients while protecting our natural resources for the future.
Definitions
Natural
Natural ingredients originate from nature. Natural ingredients are ONLY obtained via physical and/or biological means, such as maceration, solvent extraction, distillation, boiling, fermentation, hydrolysis, drying, and pressing. They originate from plants and algae (collectively "botanical") and from microbes present in nature.
Animal-derived ingredients are considered natural ONLY if they are naturally produced (e.g., silk, honey).
Nature-derived
The nature-derived ingredient, in whole or in significant part, must be of biological origin. Chemistry is used to modify natural ingredients to create new molecular structures, for increased performance and new sensorial effects.
Synthetic
Synthetic ingredients are substances derived from petrochemicals. This includes molecules chemically synthesized to resemble a natural source.
Vegan
Vegan is defined as the absence of animal-derived ingredients.